Serve
Southwinds is a place to serve. If you're looking for a way to get connected and give back, we'd love to help you find a team that best fits your interests and gifts. Serving is at the heart of following Christ. We are to serve Christ in His church and serve Christ in His world. The reality is that while we are not saved by our good works; we are saved to do good works.
Serving Opportunities
Not Sure where to Serve?
We want to help you find a ministry that fits the unique S.H.A.P.E. God has given you.
---
Guest Services Ministry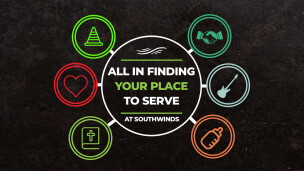 Are you feeling led to serve? We have a place for you. Click the button below, and chose a place to serve. If you are not sure what you would enjoy more, take a leap of faith and choose one. If it doesn't work out, let us know and try another until you find the place you were designed for. Go ahead and sign up today!
---
75th Anniversary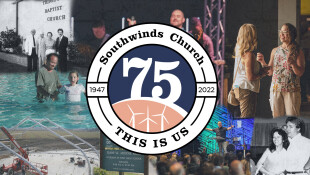 Starting Sunday, September 18 we will kick off our 75th Anniversary Celebration. Pastor Mike will begin a new 10-week sermon series. There will be special events, baptisms, community outreach projects, daily devotionals, history facts and testimonials. Our BBQ & Baptism will take place on September 25 on the courtyard. We can use volunteers in many different areas during this special time celebrating our church! Sign up today.