Children
Children's Ministry at Southwinds Church provides exciting opportunities for kids to grow in faith and have fun doing it! Through fun & interactive lessons, goofy games, laughing and learning, we want to help children Know, Love, & Serve Jesus Christ and each other.
Upcoming Events
VBS Summer Spectacular
Join us for Southwinds Summer Spectacular—Concrete & Cranes July 25-29!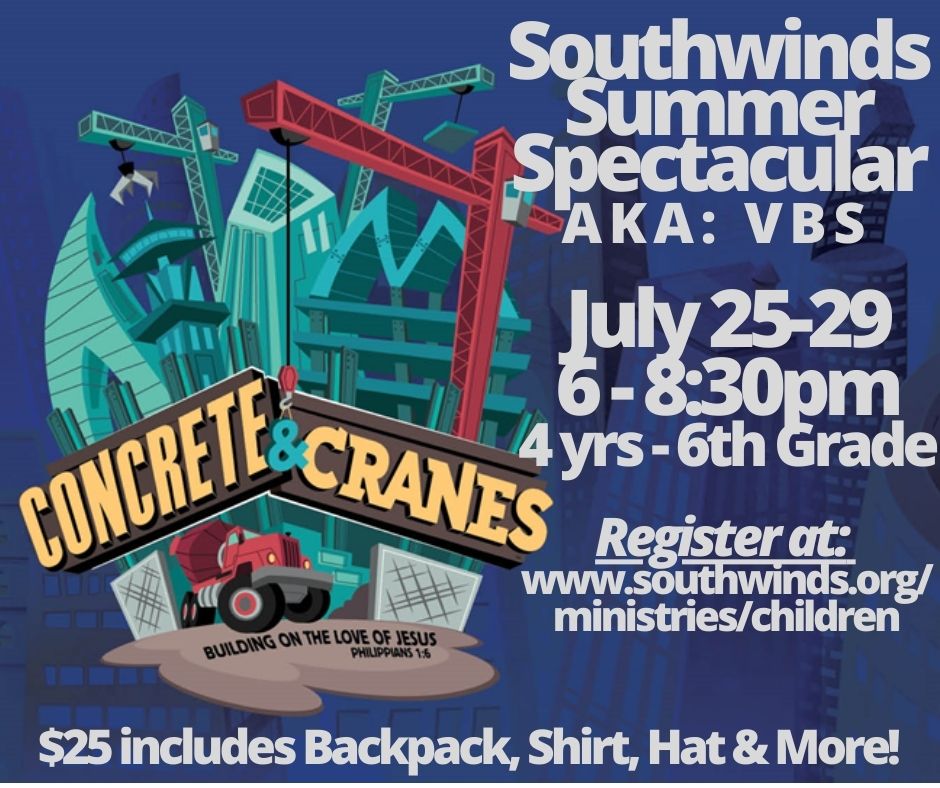 Pre-K
Registration
(4 & 5 year olds)
Elementary
Registration
(Completed K - 6th)
Leader
Registration


---
Other Events
The Children's Ministry has special events throughout the year for kids to grow closer to God and each other. Here are a few things for you to be involved in.
AWANA
AWANA Club| 3 yr old - 6th Grade
Monday Nights 6:30 - 8:30pm
Registration begins on August 8th. AWANA will begin on September 27th.
For more details please visit Awana.
Baptism
Yearly Events
Easter Egg Hunt - During all Easter morning services.
Vacation Bible School (VBS) - July 2021
CentriKid Summer Camp - July 2021
Fall Harvest Party - Sunday, October 17,2021
Children's Music Performances at Easter, VBS, and Christmas
Child Dedication - Child Dedication is a public expression of Parents' decision to raise their child in the ways of the Lord. Southwinds dedicates 3x/ year during our Sunday morning worship services. Our Elders' policy is that the parents be legally married in order to participate. Single parents are able to participate. If your child is no older than 4 and you would like to dedicate him/ her, please fill out the form below.